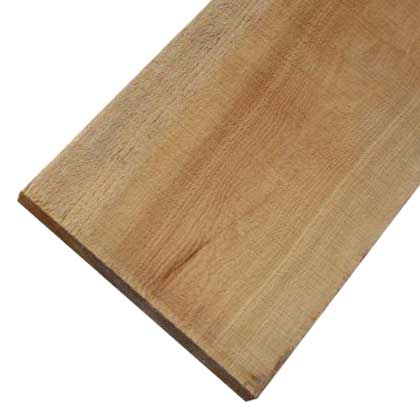 SKU#
6HCY108STK
1 x 8 #2 Cypress S1SV2E Kiln-Dried (KD) - Hardwood
1X8 #2 CYPRESS S1S2E KD
1 x 8 #2 Cypress S1s2e Kiln-Dried / Hardwoods

Cypress / Hardwood Specifications:
1 x 8, 1-in x 8-in (Nominal), 3/4-in x 7-1/4-in (Actual), 19 x 184 mm (Actual - Metric) Approx.
#2 Grade
Cypress Wood
Hardwood
Surfaced 1 Side and 2 Edges (S1S2E)
Kiln-dried (KD)
Cypress wood is a strong and light wood, very durable and naturally resistant to decay. Cypress' sapwood is pale yellow white with the heartwood varying in color from light to dark or reddish brown. Cypress machines well, planes easily, and resists warping. Pre-boring at board edges will help prevent splitting. It nails and scores very well. It glues well, sands easily, and readily accepts finishes.

Looking for cypress wood supplies for home building and woodworking project? Please see top grade cypress hardwood in our interior or exterior wood products and selections. Submit a quote, call or visit us for more info.